Space and time – two components of student collaboration that consistently emerge as challenges in our annual student technology survey. In your busy student schedule, how do you find time to collaborate for group projects? On a university campus where meeting space is at a premium, where can you find collaboration hot spots and, if they are hot, how can you be sure they are free? The Strategic Partnerships Team decided to use this conundrum as catalyst for our first Lunch and Learn of the 2017-2018 academic year titled, "The University Around You: Collaboration Tools and Spaces" on September 20th, 2017.
At a university with fully developed virtual tools, time doesn't have to be such a constraining factor. Moreover, the perception that space is scarce may be caused by the lack of awareness of Penn's best-kept collaboration secrets! As part of our "University Around You" campaign to spread awareness of Penn-wide technology offerings, we reached out to some of our favorite collaboration experts at Penn Libraries. Together, we presented tools to facilitate on-campus and virtual collaboration and we unveiled some of Penn's lesser-known collaboration gems.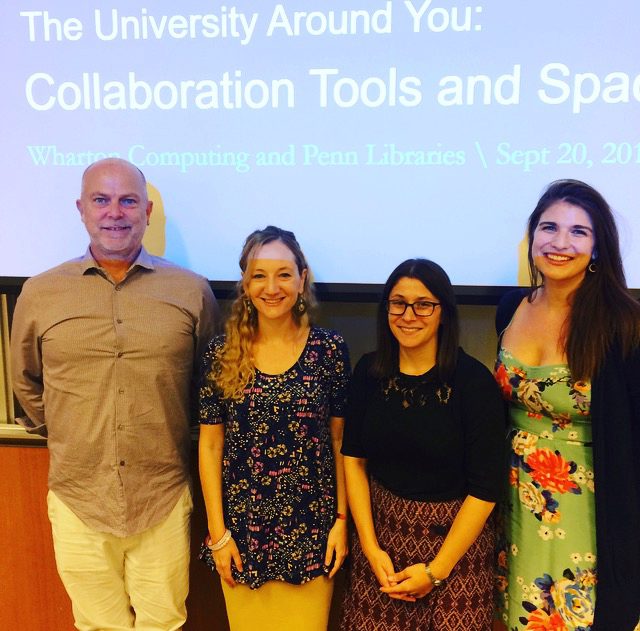 Check out our presentation slides and resources
You'll learn about the following Wharton collaboration tools and spaces:
Virtual Meetings powered by Blue Jeans for virtual collaboration with up to 100 students at a time
Virtual Labs by VMWare to access lab software from home if you can't make it to campus
Solstice screen sharing in the Group Study Rooms for those group projects with multiple aspects (spreadsheets, slides, notes, etc.)
Microsoft Office 365 and G Suite for cloud storage and multi-user editing
Kumo for accessing your Google Drive on public Wharton computers
Huntsman Hall locations beyond Group Study Rooms
Hoover Lounge in Vance Hall
SHDH conference rooms and more!
You'll learn about the following Penn Libraries collaboration tools and spaces: 
Lippincott Library seminar rooms
WIC seminar rooms
WIC group study rooms and booths
Vitale Digital Media Lab
Education Commons
Slack for communication*
Trello for project management*
Lynda.com trainings
Workshops and consultations
*not offered by Penn, but free versions are available for download and education consults available at the Library
Our next events in "The University Around You" series are the PennImmersive Technology Open House on November 8th (co-sponsored by Wharton Computing) and a Lunch and Learn on December 6th in Vance B10 at noon titled, "Survey Design Tools and Data Visualization." Stay tuned for a registration link for the December 6th event.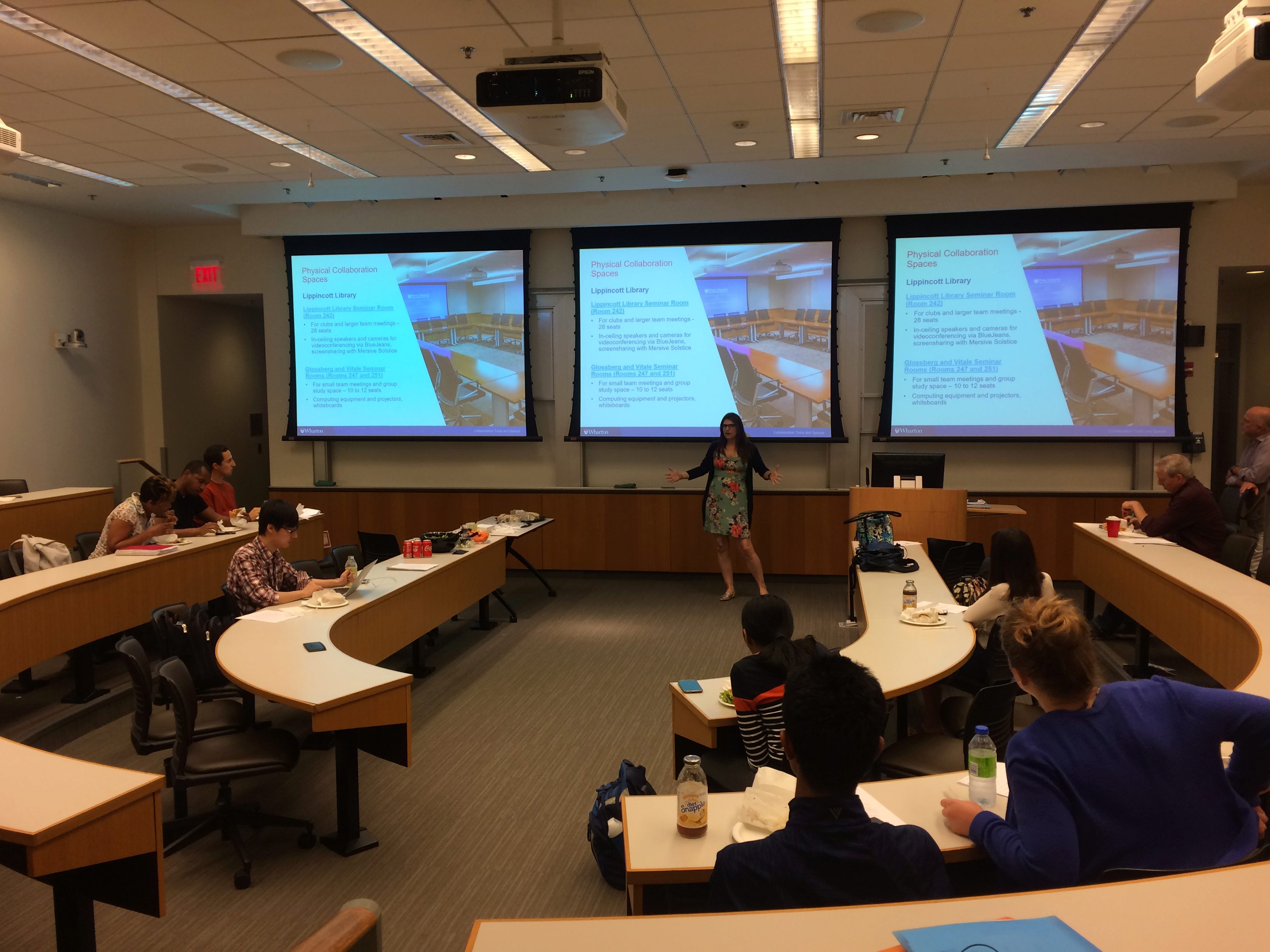 About Strategic Partnerships Student Team: 
The University Around You series is brought to you by the Wharton Computing Strategic Partnerships Student Team. Our goal is to provide a clear communication channel between Wharton Computing and students. We focus on building partnerships by engaging with students year-round through surveys, focus groups, and ad hoc outreach. We analyze findings and then work with relevant service teams and individuals to ensure continual process improvement.  Alex Milne leads the Student Strategic Partnership team. He is a Wharton Computing veteran with a long list of accomplishments here and at his previous role at Harvard University. Erin Murphy is a long-time contributor to Wharton Computing, providing exhaustive research, analysis, and development work.