Camped out at our "pop-up tech tables" in the Huntsman forum each semester, we often chat with students about our services and inquire about ways to improve their experience. We frequently hear iterations on the same theme: students don't know the full range of technology tools available to them.
As we thought about how to increase student tech awareness in the 2017-2018 academic year, we landed on the idea of "The University Around You". The University of Pennsylvania is teeming with knowledgeable people, useful resources, and exciting initiatives that often go under-recognized by students. Did you know that Penn Library is testing out augmented and virtual reality devices through an initiative called PennImmersive? Did you know that Wharton's Learning Lab developed its own in-house simulation platform to create business simulation games? Inspiring technology ingenuity abound!
To showcase the breadth of talent, knowledge and initiative, the Strategic Partnerships team organized a monthly series of Lunch and Learns, titled "The University around You". Our goal is to increase student awareness, with the hope that it also increases collaboration across Penn, providing an opportunity for our impressive colleagues to share their expertise. We held our first Lunch and Learn, "The University Around You: Collaboration Tools and Spaces" on September 20th in partnership with collaboration experts at Penn Libraries. Students learned about physical tools for virtual collaboration and real-time communication. We also shared tips about lesser-known collaboration hot spots on campus, such as the Education Commons, which houses a 3D printer that is currently available for use at no charge to Penn students, faculty, and staff.
2017 University Around You Lineup
October 24th, 2017 at 12 noon in JMHH F55 – Security Awareness: In honor of National Cyber Security Awareness Month, we'll present a panel about secure computing as a student. The panel includes security experts at Wharton Computing and Penn-ISC's Information Security group; they will address student security questions and topics such as LastPass password managers, Two-Step Authentication options, tips for backing up, and more. We'll also engage in a timely discussion about responsible corporate security leadership. 

Register at

: http://bit.ly/whartonsecurity
November 8th, 2017 from 11:00am to 2:00pm, 6th floor of VPLDC – PennImmersive Technology Open House: Wharton Computing will partner with the 

PennImmersive Working Group to present vendors, Penn students, and faculty who will showcase their work with 3D modeling, augmented reality, and virtual reality. 

Register

at: http://libcal.library.upenn.edu/event/3620546 
December 6th, 2017 at 12 noon in Vance B10 – Survey Design Tools and Data Visualization: We'll 

review

 tools such as Qualtrics and Tableau for student survey design, analysis, and data visualization. We'll also present a case study of how these tools are used in Wharton Computing's annual student survey. Registration coming soon.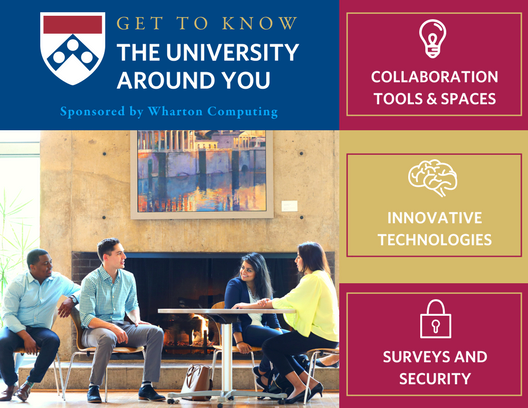 Partner with Us!
If you want to contribute and/or recommend collaboration partners, please reach out to Alex Milne (amilne@wharton.upenn.edu) or Erin Murphy (remurphy@wharton.upenn.edu) with the Strategic Partnerships Student team. We're excited to connect Penn thought leaders with Wharton students to share and discuss these pertinent topics.
About Strategic Partnerships Student Team: 
The University Around You series is brought to you by the Wharton Computing Strategic Partnerships Student Team. Our goal is to provide a clear communication channel between Wharton Computing and students. We focus on building partnerships by engaging with students year-round through surveys, focus groups, and ad hoc outreach. We analyze findings and then work with relevant service teams and individuals to ensure continual process improvement.  Alex Milne leads the Student Strategic Partnership team. He is a Wharton Computing veteran with a long list of accomplishments here and at his previous role at Harvard University. Erin Murphy is a long-time contributor to Wharton Computing, providing exhaustive research, analysis, and development work.